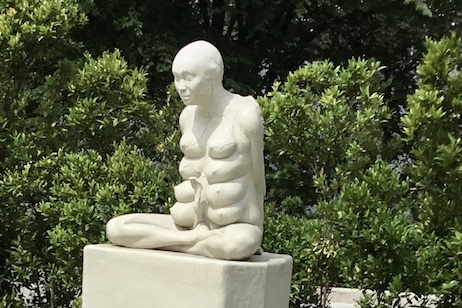 The Sculptures of Agnes Arellano: An Odyssey into Our Innermost Selves
Article on Verafiles.org
by R.C.Ladrido
November 19,2019
A walk through the exhibit assails one's senses: the female form in all its nakedness, full pendulous breasts, vulvas and vaginas, a womb filled with life, skulls in a row, and more. The male element is not forgotten, in phalluses and giant bronze-coated bullets, its penile form gleaming under the tropical sun.
---
ArtSpeak Online with Agnes Arellano
in conversation with Isa Nazareno and Boots Herrera
Discover the works and inspirations of visual artist Agnes Arellano in this first ever ArtSpeak Online session hosted by Ateneo Art Gallery. This talk is moderated by ALiWW Executive Director, Isa Nazareno, and Ateneo Art Gallery Director, Boots Herrera. ⁠
---
Inscapes that create artistic coherence
Article on The Philippine Star
by Alfred A. Yuson
October 7, 2019
Opening on Sunday, Oct. 13, at the Ateneo Areté Amphitheater, is her "Inscapes: A Retrospective," to last till March 15, 2020. The retro became possible when Agnes received the Ignacio Jimenez Outdoor Installation Grant, care of the Ateneo Art Gallery, with Ma. Victoria "Boots" Herrera as AAG director and chief curator....
Read the article on philstar.com
---
Inside the Art of Agnes Arellano, Sculptor of the Sacred Feminine
Carving divine rhyme into patriarchal reason
Article on MUSE by Clio
by Angela Natividad
Feb 21, 2019
Philippine artist Agnes Arellano has a body of work that goes back to the early 1980s. It's not only deeply mythological but profoundly, even subversively feminine, sometimes in ways that are dark and terrifying—this in a country dominated by monotheistic religion and a political strongman, who's as much a feminist as he is subtle....
Read the article on the musebycl.io website
---
Fruit of Her Womb: Agnes Arellano as Sculptor and Woman Artist
Article on Adobo Magazine
by Rome Jorge
May 30, 2018
One does not just see an Agnes Arellano sculpture. One is consumed by it, coursed through it intravenously, and birthed by it. Her art is both a visceral and spiritual experience...
Read the article on the Adobo Magazine website
---
In Conversation With Agnes Arellano
Interview for Philippine Tatler by Dorynna Untivero
July 28, 2017
Ever wonder what a typical day in the life of a sculptor is like? We talk to Agnes Arellano about several topics including Tai Chi, Peace Cranes, Myths, and her time as a Fine Arts student...